Programming Project Submission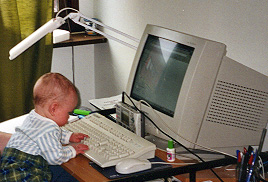 All Programming Projects are to be submitted directly to me IN HARD COPY.
UNLIKE ASSIGNMENTS AND TUTORIAL SUBMISSIONS, ALL PROGRAMS ARE DUE BY THE END OF THE LAST CLASS OF THE WEEK
By Hard copy I mean you MUST provide me with:

Your source code


Your output (I Will tell you EXACTLY what is required in class)
We all know how easy it is to copy a program. IF YOU DO, THAT MEANS YOU HAVE LEARNED ABSOLUTELY NOTHING !!!
It is not easy to catch a copied program. Unless, of course, two (or more) programs have exactly the same variable names, programming logic, and most importantly, mistakes. I have been grading programs since your grandparents were little children; I've gotten pretty good at spotting copies.
If I am convinced that the programs are identical, I will send the copies off to the Dean of Students (I don't want to argue with you). If S/he thinks they have been copied, you can deal with him or her. I'm out of it.
Check the course schedule for the due date.

This page was last updated on 08/16/06